This product simulates a relaxing pressure massage with fingers, hands or palms exactly on the acu points. Its ergonomic design specifically adapts to your facial features and gives a relaxing eye and temple massage at all times. The gentle vibration stimulates the blood circulation, eases the feeling of tension and pressure on the eyes, reduces headaches and provides relaxing sleep. It even has built-in speakers and prerecorded nature music to help you relax.
Applicable Groups:
1.Young and near-sighted people, students, writers, accountants,Computer Players those who are always keeping using Eyes etc.
2.Applicable for people with eye pouches, shadows and wrinkles and deposition of pigment by cells.
3.Applicable for people who always stay up at night and over use eyes. Effective for headache, losing sleep and nerve prostration.
4.Effective for old people with presbyopia.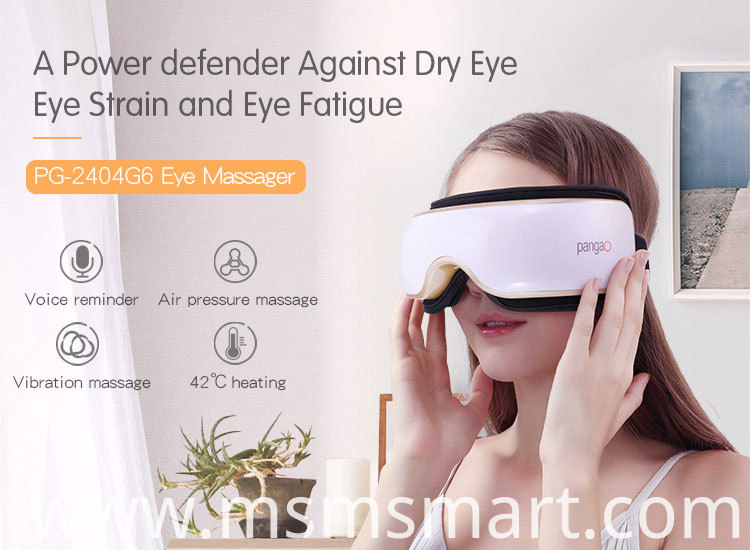 Features
1. Air pressure: fully massage on the eyes and temples
2.Heating: far infrared heating on the eye area with high and low tempreture setting Vibration: simulate Chinese traditional massage method working on the acupoints around the eyes.
3.Music Therapy: it has built-in speakers and prerecorded nature music to help you relax.
4.180°C full folding: the unique 180 degree foldable design gives you a great fit and easy storage.
5.Rechargable battery: powered by a rechargeable lithium battery for maximum portability.
6.Music download :music download by USB.
7.Volume adjustable: adjust the volume to give you a great experience.
8.Washable cover environmental-friendly Ultra-fiber leather material, soft and washable.
9.Five Computerized massage modes.
1. Air pressure + Heating + Vibration
2. Air pressure + Heating
3. Air pressure + Vibration
4. Heating 5. Air pressure
10.Flexible buckle and spandex band can be adjusted according to your head size.
11.Double button with blind operation design.
Technical Specification:
Name:Eye massager
Type: PG-2404G5
Power supply: 5V DC 1A ( USB power supply )
Lithium battery: 3.7V 1450mAh
Gift box size: 219*157*88mm
Weight:Around 660g
Profuct Parts:
I. One integrated mainframe (including eyeshade)
2. One USB cable
3. One carrying case
4, One operation introduction
5. One certificate of conformity
6. One removable and washable cloths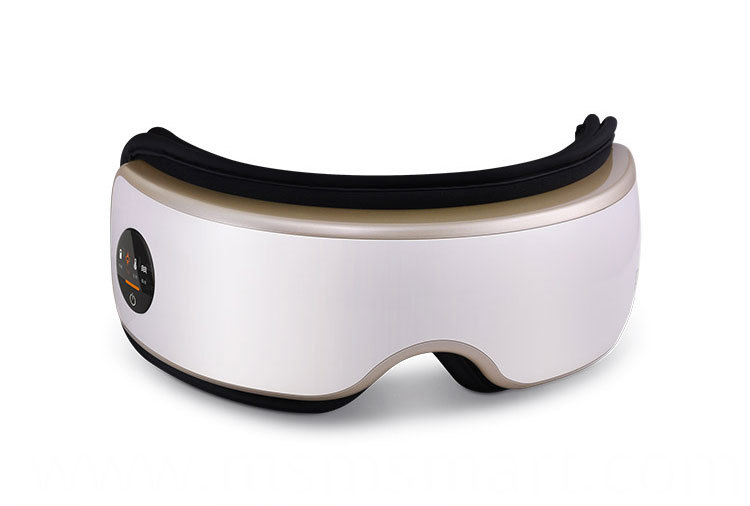 Intelligent air pressure: imitate shiatsu kneading to

the ocular acupressure points accurately with a soothing

rhythm, greatly relieving the muscle strain and fatigue.

Vibration massage: simulate Chinese traditional

massage method working on the acupoints around

the eyes.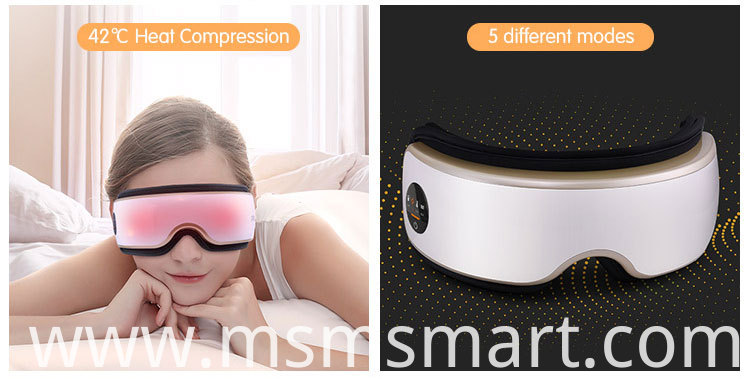 42℃ Heat Compression:it can provides the most

comfortable heating (42℃) to the skin around the eyes,

doing great job to promote the blood circulation and soothe

the ocular muscles, which helps to combat dry eyes, dark

circles and puffiness.

5 different modes:

1.Air pressure+ Heating;

2.Air pressure+Heating+Vibration;

3.Air pressure+Vibration;

4.Air pressure; 5.Heating

Technical Specification:

Name:Eye Massager

Type: PG-2404G6

Power supply: 5V DC 1A ( USB power supply )

Lithium battery: 3.7V 1450mAh

Gift box size: 219*157*88mm

Weight:Around 600g




Product List:
I. One integrated mainframe
2. One USB cable
3. One operation introduction
4. One certificate of conformity